Mentorship and networking
Mentorship and networking are excellent ways for College of Global Futures students to explore their career interests and connect with like-minded professionals.
---
Mentorship opportunities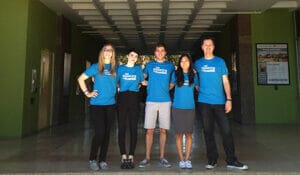 Mentorship is a valuable education and career development experience for both mentors and mentees. A mentor is a person with significant professional experience who shares their time, experience and advice with students (mentees) who want to learn from them. A good mentor-mentee relationship is also bi-directional, where mentors listen and learn about the needs, culture and professional aspirations of their mentees. In CGF, there are three ways to find mentors to help you with career and professional development.
Job SHARE Program
The Job SHARE program (Students Hear Alumni Real-world Experiences) is a unique opportunity for students of the College of Global Futures to connect with alumni from the college to explore career interests and professional development opportunities.
Current students are paired with alumni to have a career conversation (informational interview) to explore future career possibilities, learn about the world of work and networking and gain valuable advice from experienced professionals.
The program runs in both fall and spring semesters, and students can participate more than once starting as early as their first-year (also open to graduate students).
Frasier Global Mentorship Program
The Frasier Global Mentorship Program provides College of Global Futures students an immersive, high–impact mentorship experience that fosters a global perspective and a broader context of sustainability.
Over the course of the academic year, selected mentees will cultivate a relationship with their mentor and strengthen their career readiness in oral and written communication, time management, teamwork and collaboration, digital technology, professionalism and problem solving. During the experience, students will explore challenges and opportunities related to sustainability professions in a global context.
The Frasier Global Mentorship Program will culminate in an immersive, international travel experience, providing students an in-depth learning opportunity with fellow students or their mentor. Costs associated with travel and accommodation are supported by the Frasier Global Mentorship Program. This program is open to junior/senior level undergraduates and graduate students, and requires an academic year commitment (August – May).
Faculty mentors
Professors and instructors are well-equipped to support the professional goals of students. As experts in their field, they can help connect students with professionals in their fields of interest and recommend co-curricular or other experiences to enhance the education of mentees. Here are some ways for students to connect with faculty members in the College of Global Futures:
CGF also offers two structured programs to connect students (mentees) to alumni (mentors): Job SHARE and Frasier Global Mentorship Program.
In addition to networking opportunities that you'll receive from meeting with faculty members, here are some other ways to network with professionals in your area of interest
Chats with Dean Hall– Dr. Sharon Hall is the Associate Dean of Student Success, and she can provide you with new ideas and connect you with faculty and other resources to expand your network. Get more details about things like student engagement, internships, career advising and research opportunities
Networking
Networking is an excellent way for students to explore their career interests and build professional relationships to support their career goals and professional development. Networking means reaching out to people to make useful or lasting professional relationships. There are several opportunities for students to network with faculty, alumni and professionals in their areas of interest.
CGF LinkedIn groups
Join your school's exclusive LinkedIn group:
Each group provides a place for networking, sharing professional opportunities and resources, and staying connected with each school. These groups are open to each school's current degree-seeking students, alumni, faculty and CGF staff.
Career conversations
Commonly referred to as an "informational interview," a career conversation is an informal discussion to learn about a specific career path or industry from an experienced professional. Through career conversations, students gain firsthand information, career advice and professional connections that cannot be acquired through online research alone.
For support with career conversations, schedule a career advising appointment to learn strategies and tools to make the most of your career conversations.
For quick tips on preparing for a career conversation, including examples of engaging questions to ask, review this Harvard Business Review article.
Get involved
Both on- and off-campus activities provide opportunities for students to network and build professional connections in a relaxed setting. Students can participate in:
Contact
There are so many opportunities to get connected. If you have questions or would like to talk about your interests, please email [email protected].