Professional certificates
Professional training courses delivered by ASU's College of Global Futures are designed specifically for managers, project and team leaders, and those looking to advance in their role. Certificates can help you gain expertise to overcome challenges in your current role, or upskill you as you explore career opportunities.
Certificate programs in sustainability
Our professional certificate programs are designed by the same faculty that created the School of Sustainability's degree programs. Certificates are ideal for professionals who have little formal sustainability education, but want a strong foundation in specific sustainability areas, like corporate social responsibility, sustainability reporting, and sustainability strategy and management.
Climate Conscious Leadership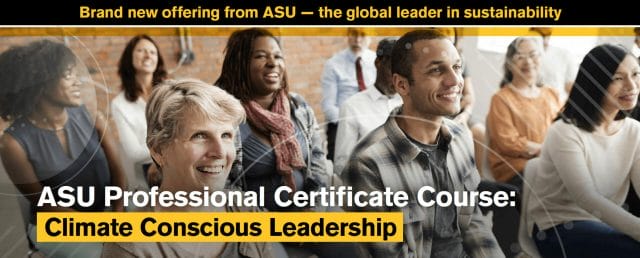 Earn a Professional Certificate in Climate Conscious Leadership from ASU's School of Sustainability.
This dynamic online program is designed for mid-career professionals who want to take action on the climate crisis — in their professional and personal lives — but don't know how. The program will focus on how to effectively become a leader on climate issues within your professional context, to be more strategic and conscious within your organization, and to understand how the broader global context translates into practice.
Email [email protected] to sign up to get the latest information on this brand new program.
The Sustainability Opportunity
Earn a Professional Certificate in Sustainability Strategy from ASU's School of Sustainability and W.P. Carey School of Business.
This course is designed for mid-career professionals in the private sector who want to create a decided advantage in the marketplace by reorienting their abilities. The program will focus on the organizational opportunities that accompany global challenges. Sustainability strategies reduce cost through efficiency, increase revenue and help organizations come out on top in the talent war. Participants will leave with tangible and applied tools as well as a plan for leveraging organizational change!
Email [email protected] to sign up to get the latest information on future programs.
Testimonials
---
GRI Standards 2021 Update Certified Training Course
Take your organization's sustainability reporting to the next level with the GRI Standards, the first and most widely adopted global standards for sustainability reporting. This course has been updated to align with the GRI Standards 2021 Update.
Using a combination of video lessons, interviews, case studies and readings, this course will cover:
How sustainability reporting promotes organizational change.
The GRI organization and how it relates to other standards and frameworks.
Key terms, features and structure of the GRI Standards.
How to engage stakeholders inside and outside your organization.
Material topics, impacts, boundaries and targets for reporting.
How to prepare and communicate about your sustainability report.
Additional benefits include:
Interviews with current sustainability practitioners that bring the reporting concepts to life.
Case studies featuring U.S.-based organizations who report in accordance with GRI Standards.
If you complete this course, you will earn a Certificate of Completion from GRI. If you choose to pursue GRI Certification, this course counts as 3/5 of the optional certification.
Testimonials
---
Foundations of Sustainability
Foundations of Sustainability is an online self-paced course that combines video presentations, interactive online activities and readings from the field to help build your foundation of sustainability knowledge and strategy. You'll learn about sustainability's three pillars (economy, society and environment), modern sustainability challenges and real-world examples of how organizations are applying sustainability strategies for long-term success.
Study 6 hours of class materials at your own pace
Earn a professional micro-credential for successful completion
Lay the foundation of basic sustainability strategy for your organization
Students have the option of receiving a badge for completing this course.
A badge is an official digital micro-credential issued by ASU for acquiring knowledge through a short course or program to improve professional practice. Micro-credentials are an increasingly popular way to digitally represent an accomplishment or skill achieved that constitute less than a degree. Micro-credentials follow learners, often are displayed and on platforms such as on LinkedIn, and are verifiable by employers through the issuing organization.
View upcoming sustainability trainings and workshops in the Phoenix area.
---
Ethical Circular Economy
Earn an Executive Certificate in the ethical circular economy to elevate you and your partners to a regional circular economy and increase your recovery of investment of resources and materials.
The term circular economy describes innovative strategies that work in tandem to design out and eliminate waste throughout product life cycles by making use of existing biological matter, reusable or recycled materials and shared resources. In contrast to a linear "take-make-waste" economy, a circular economy results in financial savings and efficiency within organizations that in turn benefits the communities that they serve.
This focused one-day workshop includes:
Mapping exercises on a take-make-waste linear economy.
Practicing adapting to a circular economy model.
Identifying additional stakeholders, gatekeepers, policies and strategies.
A take-home report that includes maps and a synthesis of the workshop.
Learn more and complete the online learning packet to orient yourself to the basic principles of the circular economy prior to the face to face workshop.
For more information or to schedule a workshop with your partners, contact Kelly Saunders